This post contains affiliate links. For more information, please visit my disclosure page.
Maybe you've been poling for a bit, and recently began finding small itchy bumps in your knee pits, on your torso, or even your hands. You're not alone! Pole allergies are one of the unsuspecting roadblocks polers experience during their pole journeys.
The first pole rashes I found surfaced 6 months into starting pole. I found little itchy bumps behind my knees and on my waist,  which seriously drove me crazy because I could NOT figure out what the cause was.
So what does one do when you freak out about random body symptoms? Google, Google, Google and obviously self-diagnose.
Hypochondriac. Were they random flea bites? Freaking shingles? Ringworm?
After digging the depths of the internet, I found forums and articles relating to pole allergies. Then it made complete sense. The pole studio I was attending had chrome poles, which are made of metal alloys that have nickel in the mix. These alloys are coated with a nice layer of chrome, which some people are still allergic too. Once the poles get lots of love, the chrome begins to wear off and as a result: skin + underlying metal = skin reaction.
In this post I'll try to help you clear things up the best I can.
We will go over:
What is a pole allergy?
Why do some people get pole allergies?
Who are some famous pole dancers who have also experienced this?
How do I combat it? What are my options?
Can I still pole?
Oh, and I would love to hear your story if you've ever gone through experiencing pole allergies!
Let's get started.
What is a pole allergy?
As briefly mentioned above, pole allergies surface as skin rashes in areas where your skin has come into contact with a metal you are allergic to. The most common metal allergies are nickel-related, although chrome (chromium) allergies also exist.
Pole allergies appear on the skin as itchy little bumps. The reaction time to the metal can take anywhere from several hours to a couple days. Depending on how your seriously body reacts, the bumps may remain small, or they could even blister. If you blister, your allergies may be more severe than someone who just has tiny bumps.
A good indicator of whether you'll develop a pole allergy is whether you've ever had any adverse reactions to jewelry or any accessories (such as belt buckles, watches, electronics, etc). However, it's good to keep in mind that allergies to nickel can surface at any time.
In this photo I was wearing leggings to avoid getting more rashes in my knee pits. Towards the end of the post, I talk about working on different aspects of pole, which is what I did here. Chances are this was me focusing on flow and dance 🙂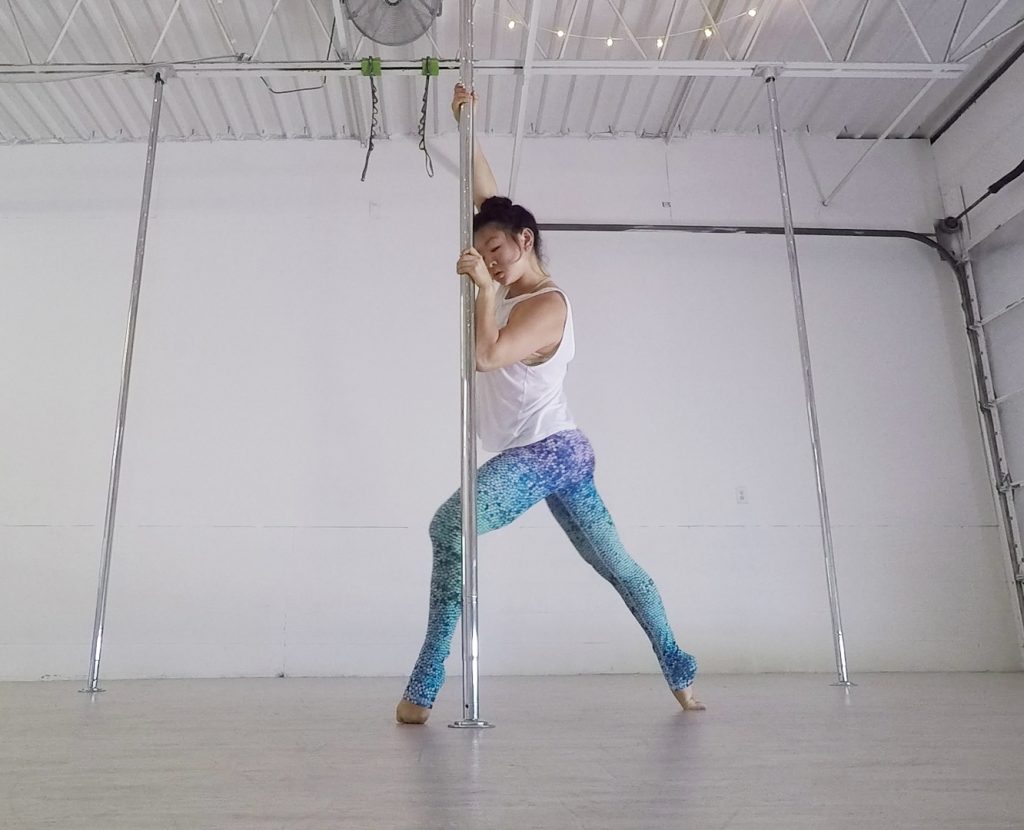 Why do some people get pole allergies?
Not all bodies are created equal because…that'd be boring. BUT this allergy is definitely a common one. Approximately 1-2% of men are affected by nickel, BUT 12-15% of women are affected by this allergen. Why the difference? Well, researchers suspect that because women generally wear more jewelry and are exposed more often, their bodies are more sensitive and more prone to developing an allergy.
But why do the rashes occur? Rashes occur when bodies sense invaders and dangers, the immune system acts up and sends attacker cells to the area that has been in contact with these invaders. The inflammation you experience results from your immune system doing its job.
Thanks bod. 
Who are some famous pole dancers who have also experienced this?
When I first discovered my allergies, I was SO discouraged. I came across the Bad Kitty Blog that helped me understand I could still pole because some of the greatest polers deal with these allergies!
I've linked their Instagram profiles for you to stalky stalk, so here are some famous pole dancers who also have pole allergies:
How do I combat it? What are my options?
You don't want to hear this, but the BEST way to avoid the annoying reactions is to completely avoid the trigger. But dont you worry. You and I both pole, so I won't ask you to stop pole dancing.
100%…you have options.
You can bring baby wipes or shower immediately after class.
I found it to be helpful to bring some baby wipes for after pole class and immediately wipe down the areas that touched the pole. Although it didn't completely prevent a rash, I did notice the rashes were less severe. Showering will have the same effect.
You can call around to different studios asking if any have stainless steel poles. 
Of course you have this option only if you live in an area with multiple pole studios. If you are willing to drive a distance, that's also an option and completely up to you. If you're lucky enough to be in an area with a couple studios, give the locations a call and see if they have stainless steel poles!
You can have a conversation with the studio owner.
Discuss the possibilities of adding a stainless steel pole to your current studio. This may be a good option is the studio is financially able to, and may be an especially suitable option if more than one student has brought up the issue. Plus, stainless steel poles train grip strength SUPER WELL!
That means if people are looking to train for competitions or simply want to rely less on grip aids, this is a good option 😉
I had this conversation and was so, so fortunate the studio owner understood the situation. It turned out others also had allergies, so we ended up getting 2 stainless poles from X-Pole.
I have also visited other studios with stainless steel poles that worked well with the allergy. I believe they were from Platinum Stages and Lupit Pole.
Out of these brands, Lupit is definitely my favorite. Their pole quality is top notch – not only is the stainless steel pure, but the spin pole feature is flawless. Ranking next on the list would be Platinum Stages because I have not yet had a reaction to their poles. Coming in last place is X-Pole. Although these gave me way less allergies than the chrome-finished poles, I still broke out using their stainless steels. Any of these options will do because stainless steel will probably ALWAYS be better than not.
You can invest in a stainless steel home pole.
This is perhaps my fave option.
Purchasing a stainless steel home pole can save you headache AND money. Not only will you be able to free yourself from mental barriers of not wanting to touch the pole at the studio, but you can freely smother your home pole with love. You'll also save money by being able to learn in class and have ample time to perfect moves at home!
If you decide on considering this option, you have lots of options. However, you'll want to do very thorough research. Building integrity and foundation is an important thing to consider. Will it damage your ceiling or floors? Is the structure of your building safe to have the pressure of the pole into the floors and ceiling? Will it slowly push your ceiling upwards? Def. don't want that! Will your landlord be okay with this option?
You will also have to make sure you purchase from a reputable brand while installing it properly. To install properly, you'll also have to measure your ceiling, as you may need an extension piece. Make sure to also take into consideration if you move apartments/homes often!  Will you be willing to install and take apart your pole if you do move around? Will the pole be able stand up to the job?
I don't want to scare you away from this option! I pinky swear that's not my intention! You'll just want to make a decision you feel sure about. A lot of research goes into purchasing home pole, but it'll be worth it.
For instance, I just purchased a stainless steel Lupit Pole stage which cost a freaking arm and leg, but I'm SO EXCITED! This option was most fitting for me, so it was the one I decided on. Not only will it save time from driving in traffic to/from the studio, but it financially makes sense to practice more at home and then go to the studio for instruction when needed! Update April 10, 2019: I have become a Lupit Pole affiliate, so any time I mention it in my blog, I will add my personal link! If you decide to purchase through my link, I really thank you. I helps me know I am bringing you some value!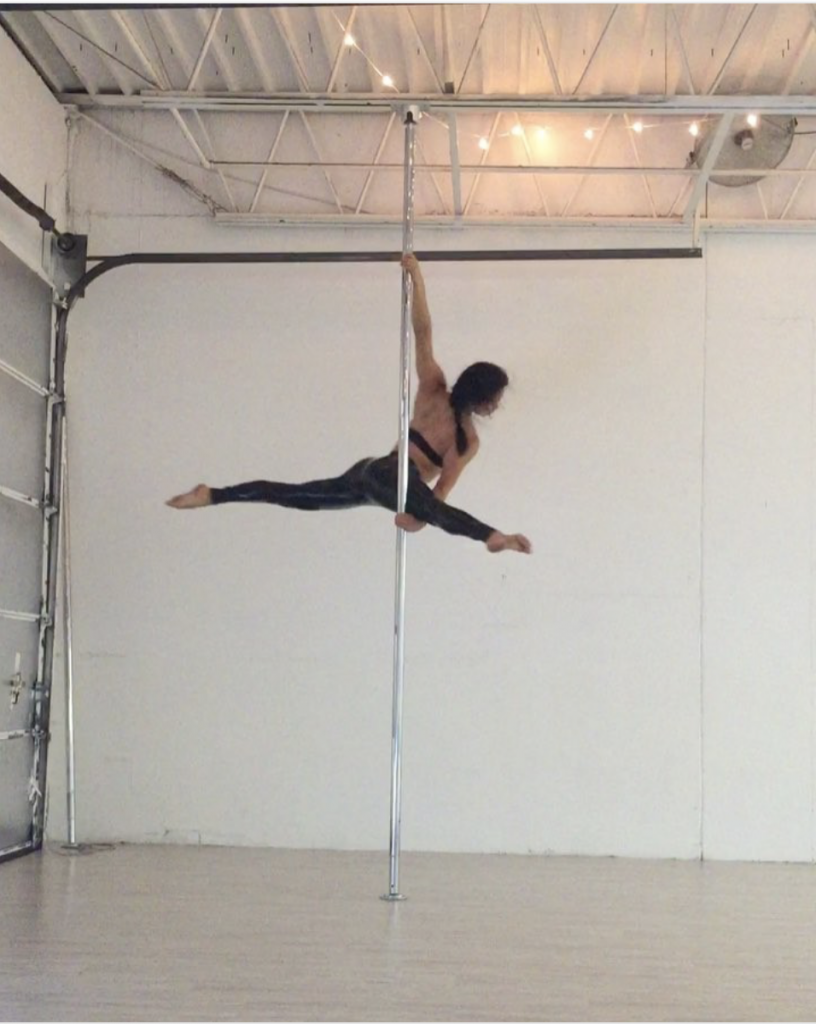 You can wear sticky pants/leggings. See above, I'm wearing sticky pants!
I got a pair of Cleo the Hurricane sticky leggings when I realized I had an allergy, but soon ditched them because my location was HUMID! The pants worked like a gem in helping me avoid allergic reactions, but I absolutely sweat up an ocean in those babies. Literally… a salty & sweaty ocean. I haven't tried any other brands, so I'm not sure if other brnads hold in sweat as the Cleo ones did, but please explore!
Also I think it's important to note, you may not feel as free when dancing with leggings on, but they do make poling in the wintertime better. Less chill, less rashes. win-win.
SOOOOO
Of these options discussed, I have tried them all, so I am speaking from personal experience. I hope you find them helpful. It's also never a bad idea to continue exploring other options! For example, if you look on forums you'll find people talking about taking over the counter antihistamines (such as Benadryl), but I did not mention it here. This is because I do not like taking unnecessary medications. Surf the web and explore to find your solution!
Can I still pole?
YES OF COURSE! Don't you worry. You will find a solution that works for you, I know it.
Even if you feel discouraged because of your allergy, you can definitely continue training this artistic sport. If you decide to let your reactions completely heal, you could focus on other aspects of movement in the meantime. Focus on flow and dance, conditioning, flexibility, handstands…ANYTHING YOU WANT!
Yes, pole allergies are a pain in the booty, but they are not the end of the world.
I hope you were able to find comfort in this post knowing you don't have to stop poling, and that pole allergies are more common than you think!
POLE ON, HOMIES
-grace