I recently got a Lupit Pole Stage, and felt compelled to review it because it is a relatively new product, especially in the USA. If you appreciate visuals, feel free to visit this video documenting the very first time I put the stage together. OR, you can see it in action 🙂
In this post, we will go through:
About Lupit Pole brand
Brand Ambassadors
Product Quality
Proudct Pricing
Experience w/ Customer Service
Experience w/ Lupit Pole Stage
UPDATE: APRIL 10, 2019
One year later, I am still loving Lupit Pole! Over the past year, I've received many inquiries about the stage pole, so I did become one of their affiliates. Anytime there is a link to Lupit, I will add my affiliate link so that if you choose to purchase anything, a small percentage will go towards me :). You will not be charged any extra or differently! For more information, please visit my disclosure page.
Lupit Pole is a Europe-based (Slovenia!) dance pole brand that is known for their high quality products. Lupit Pole was established back in 2009, with the mission to "strive to offer the best and most useful pole dance equipment to customers by constantly developing [their] our knowledge and leveling both, [their] our quality and reliability". All their products are made in Europe, aiming to produce the highest of quality products in the market. Lupit also aims to provide top notch customer satisfaction.
Customer service is SO important to them, that they have 6 core values of premium service:
Full service: Not only do they focus on good products, but also  outstanding service to develop partnerships that fulfill customer needs.
Extra mile: Customer satisfaction goes beyond the transaction. After-sales satisfaction is important as well.
Realize potentials: Constant improvement is in the works. They strive to offer the best and most useful products by developing knowledge in pole standards.
Value staff: Employees are Lupit's greatest asset! Staff members are what create a dynamic and professional work environment.
Ensure supply: fulfilling orders promptly and accurately is SO important to create a loyal customer base
Commitment: creating long-term relationships with staff and customers allows for a reputation known for delivering the highest quality products from the industry.
So if you're catching onto the trend, Lupit LOVES themselves some good customer service. If you would like to read more about how wonderful of an experience I've had with customer service, feel free to skip down to the bottom of this post. If you're wanting to know more about Lupit in general, visit their about page.
Lupit Brand Ambassadors and Lupit Pole Angels
The Lupit Brand Ambassadors are a core part of the Lupit Team, as are the Pole Angels. From my understanding, the brand ambassadors are highly established artists of the pole world, while Pole Angels are young athletes ages 10-14. The Pole Angels Program helps bring these young athletes to their full potential.
Ambassadors:
Marion Crampe: If you watch Ellen, you might recognize Marion. She has a beautiful and genuine soul and is so sassy (which i LOVE). I have adored Marion and her soul since I met her at a Pole Theatre workshop a few years back. Her style of pole is very much focused on spin, contortion, and flow. Also, her performance on Ellen was on a Lupit Pole stage. What what!
Sergia Louise Anderson: Sergia has some of the cutest choreography I've seen in pole. Her dance background is something I really relate to, especially her pole jumps and leaps that translate from traditional ballet and jazz training.
Angels:
Paige Olson: This youngin' won a world championship in London in 2016, and like all young polers, is the future of pole!
I just listed a combined few ambassadors and angels, but you can visit this link to meet the rest 🙂
Product Quality
Quality and pole technology is one of Lupit Pole's biggest bragging rights. All their products are manufactured in Europe, and the technology of their poles are developed with the involvement of pole dancers and pole athletes who are able to provide constructive feedback on pole quality.
Creating a pole actually takes lots of engineering knowledge. Lupit uses the latest mechanical engineering technology for product development. My favorite part of their tech innovation is the "Quick Lock" system, which allows you to change the dynamic of the pole from spinning to static. The Quick Lock system is basically a godsend. You can forget the hex keys and screws because all you need to do is turn the ring on the lower part of the pole at the base, and your pole will magically change from spin to static and vice versa.
Of the pole brands I've tried, Lupit pole has had the smoothest spin as well. (so important for a good flow) It's like butterrrr!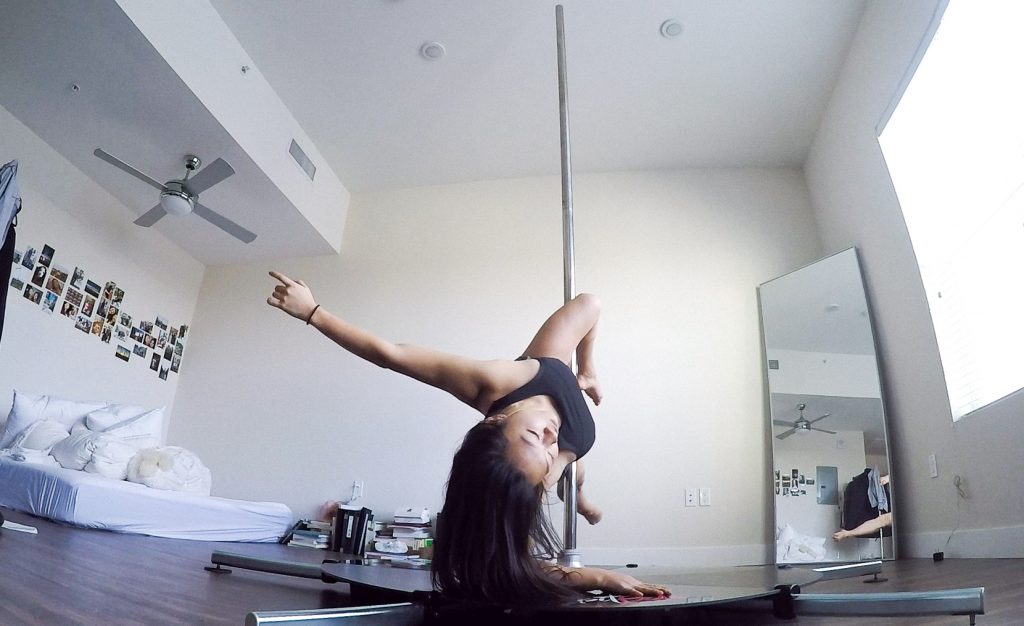 Product Pricing and Comparison
Let's compare
Lupit
home poles and then
Lupit
stage pole prices to X-Poles because X-Pole is another popular dance pole brand. For consistency, we'll use a 45mm stainless steel pole.
Lupit home pole: $349
X-Pole X-Pert home pole: $350
Lupit Stage Pole: $999
Usable pole height: 9'2"
With carrying case: $1099
X-Pole X-Stage Lite: $750
Usable pole height: 9'8"
Comes with carrying cases
When it comes down it, the two brands are very comparable in pricing. I ended going with Lupit because I've had no allergic reactions to their poles.
Experience with Customer Service
From the beginning of my interests in purchasing a Lupit Pole Stage, my experience with customer service has been spot on. The sales manager helping me always replied to my emails in a quick, professional, and friendly manner. All my questions were answered, and I felt safe buying from this brand – like I would be able to reach out for help if any problems came up. So, we processed the invoice through PayPal and everything went through smoothly. Within a week and a half later, I had three packages at my door. They were heavy AF.
I received my Lupit Pole stage in good condition, for the most part. Considering the nature of shipping heavy objects across the globe, things are always going to be thrown around. During this process, one of my carrying bags was damaged and I noticed the zipper was broken. This kind of sucked, A LOT, because what else would I carry the heavy pieces in?! So, I took some pictures, exchanged a few emails with the sales manager, and before I knew it, they had a new bag coming my way.
It was obvious through all the conversations that Lupit Pole staff members genuinely care about the customer's overall experience.
Experience with the Lupit Pole Stage
The exact pole stage I ordered was the 45mm stainless steel pole stage with long legs and carry bags. I decided on the the long legs over the short legs for extra stability, since I love going hard. #gobigorgohome #bye
To be quite honest, I was nervous about setting this stage up. I generally like to set things up without direction, just winging things. But since proper set up for a pole stage is needed for SAFETY, I went ahead and watched the installation video approximately 5 times, and then went at it.
The time it took to get the pieces out of the packaging to the point of a usable and danceable pole stage took about 35 minutes. I posted this installation video to Youtube. Obviously, I cut out the majority and sped it up.
At the time of writing this post, I have used the pole three times, and have re-set up the pole 3 times because it felt unstable. I finally have it stable and feel much better about it. Transitioning from a traditional floor-to-ceiling pole to a stage pole is a bit scary because of the wobble, but I know the pole is designed to be safe and stable.
As for spin quality, I already mentioned it's like butter, but sometimes I'm like, "can you believe it's NOT butter?!" Jesus. I'm in love.
The metal is also very high grade stainless steel. I mentioned in another post how X-Pole's stainless steel still made me break out with rash, but I haven't had a single skin problem with Lupit yet.
Overall, I'm so excited to be able to dance at home now. If you have any questions regarding the pole stage, feel free to reach out! 🙂
-grace