I say pumpkin, you say latte! I say pumpkin, you say chillllll bro. Okay cool, probably won't chill, but what I WILL do is give you seven healthy-enough recipes to try – one recipe per day for each day leading up to Thanksgiving. It'll be the Seven Days of Thanksgiving…although I've technically been celebrating since September.
The following recipes have been hand picked for you by yours truly, so that means added sugar will NOT be out of control, and of course, these recipes have been raved about by other users. Of the recipes, I have only made two of them, so by Thanksgiving next week, they will all have been in my belly.
Soooo here we go:
I have made these cookies twice, and let me tell you…they are yummy yummy. (and look! Juli featured me on her page!) I DID alter them by using collagen powder instead of the suggested brand, and also cut the chocolate chips in half. Still delicious.
The second in the list I've made. You'll definitely want to start your Sunday morning off with these. They are perfect in crunch, fluffiness, and flavor.
If you want to be extra, extra… have yourself a homemade bulletproof pumpkin spice latte from this next recipe. Two recipes, done in one day. See below.
I'm excited to try this one! I'll be adding two scoops of collagen peptides, as I do to my normal bulletproof coffee.
Haven't heard of Bulletproof coffee before? It's black coffee blended with butter and other things you can read about on the Bulletproof blog.
However, if you ALREADY love Bulletproof coffee AND you love pumpkin spice, I'm sure you'll love the pumpkin spice version. I sure hope I do. *Scroll down for the full recipe on their page* 
Update: Made the latte this morning. I didn't have any whipped cream or pumpkin spice,so it wasn't a true pumpkin spice latte. It WAS a little heavy and creamy for my morning jam, but like the blog says – it's not a daily thing! Here it is: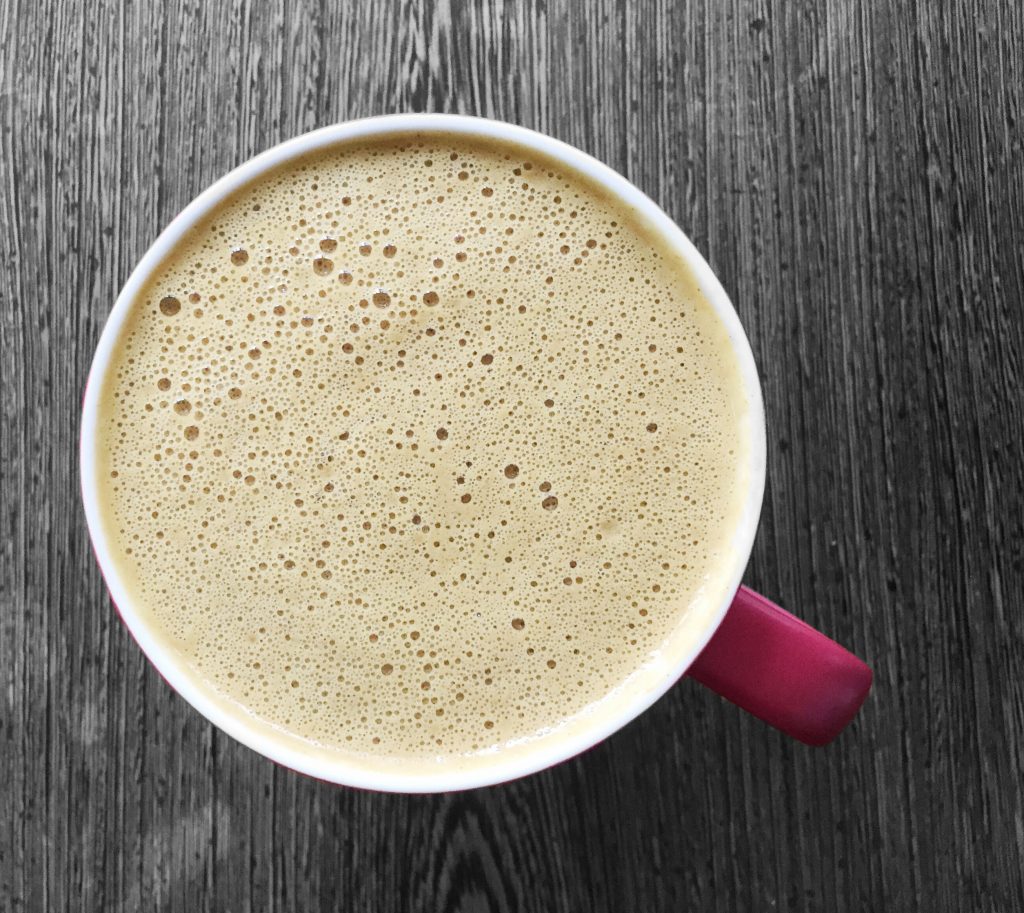 Linda from the blog is saying these pumpkin muffins are "fluffy, moist, and full of fall flavors", so really…what more can I ask for? I MIGHT have to cut the recipe in half so I don't feed my friends and fam into a full on food coma, but on second thought…happy belly equals happy soul, right?! (But still, moderation, people…moderation)
Update: These were DELISH! The fam ate them all 12 in less than 12 hours… My only issue was leaving them in too long, so they were dry. Otherwise, they were so, so yummy
The Big Man's World has a bunch of really simple recipes I've been wanting to try for ages! Now is the time, homies. I love this one because it's two of my favorite things: chocolate and pumpkin.
Update: Not a fan. I'm not sure if I screwed it up, but the filling has weird texture. Maybe I just have texture issues, maybe not. Would not recommend 🙁
You know the Costco pumpkin pies, the ginormous ones? I kid you not, this girl is capable of eating ALL the filling (not the crust tho) in one setting. I would know because been there done that, wuddupppp.
But it has been a while (lol one year), and I'm trying for some self-control this year. Maybe this pumpkin pie pudding will be a better alternative for it. Fingers crossed!
Update: indulge in this, it's amazing.
Last, but not least…cookies. KETO cookies! It's already giving me life. For the past two months I've been attempting to eat HIGH fat and LOW carb; it's difficult especially when life gets in the way, but when I do stick with it I feel amazeballs.
So because these cookies fit the mold of high fat & low carb, into the belly they will go. Bye!!!! Maybe I'll make them X-TRA LARGE & huge – that way I'll technically be eating two cookies instead of seven. Life hacks, doods.
Update: These cookies don't really have the feel of cookies, but maybe more like a cakey cookie? They were really good and keep you full though!
That is all for now! I will be updating this page each day after I make one of the recipes for the Seven Days of Thanksgiving.
– grace