This page contains affiliate links. To get more information, please visit my
disclosure page.
This berry skillet crumble is the best. It is basically mouthgasmic AND bellygasmic – especially during chilly weather. But you ask, "what makes this so different from the other crumbles?" Well LET ME TELL YOU:
Now let's touch on sugar real quick:
It's not exactly the devil, but your body seriously does thank you when you don't bombard it with loads of processed sweetness shiz.
I used to be a hardcore sugar addict. Like as in I would add sugar packets to my water at restaurants (whaaat?!). Then in high school and college (and admittedly, now) I went through this huge phase of experimenting with different diets & food combos, and seeing when I would feel my absolute best.
What I became 100% sure of  is that my mind and body THRIVE whenever added sugar is kept to a minimum. Towards the beginning of this whole limiting sugar thing, I did realize something pretty fascinating: I began tasting sweetness in things I never had…such as cashews, carrots, and 90% dark chocolate (no lie). I also said bye-bye to my annoying perpetual throat phlegm. Bye Feliciaaaaa
So with that, I would just like to say that if you ARE used to eating lots of sweets, maybe add just a touch of honey or maple syrup to the filling blend. Or drizzle it on top at the end. Do as ya please!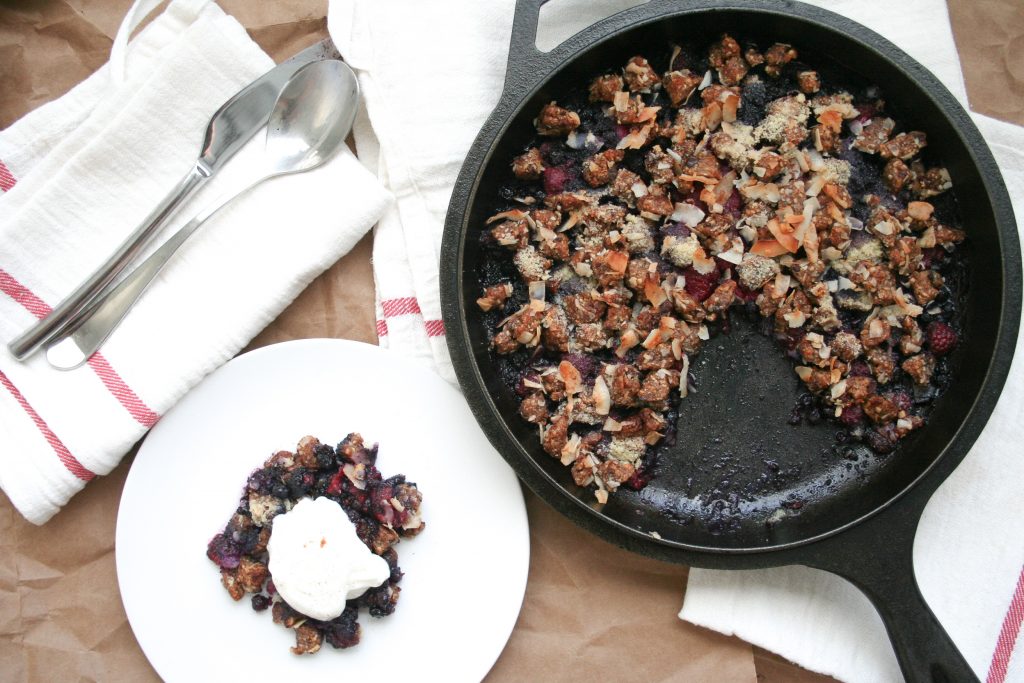 Now about this COOKIE DOUGH! You won't believe it's not actually cookie dough 😉 It's a nice sized jar of "snack bar", just minus the wrapper.
The ingredients are so simple too.
They include: organic dates, cashews, almonds, flaxseed meal, organic vanilla extract, raw cacao nibs, pinch of sea salt.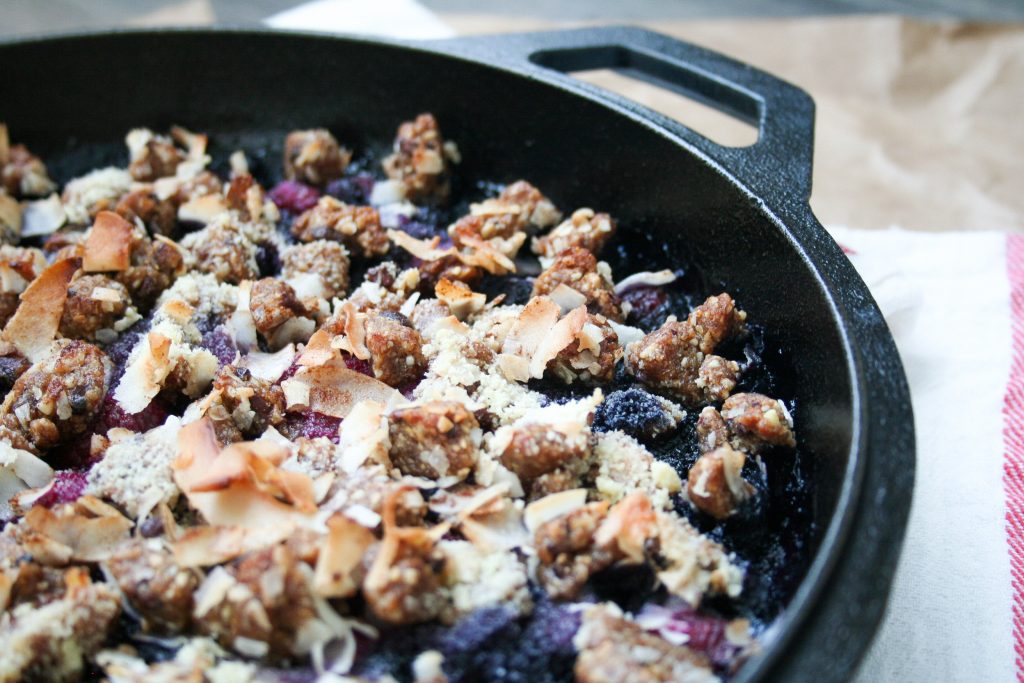 Unwrapp'd is the company who makes this tasty stuff. They are a Denver-local startup who understands the importance of good fuel AND great tastes. I found this article when I was reading about the company. Their game-changing ways of neglecting the use of wrappers (hence, UN-wrapp'd) is awesome.
You ever eat so many snacks that your whole trash bin fills up with wrappers?! Yeah, same. The guilt of eating so many snacks and having that many wrappers literally eats me alive. The jar leaves less evidence, right?
So anyways. The dough is good itself, but I wanted a reason to eat it for breakfast…so I made a breakfast (or snack or dessert berry skillet crumble. The recipe below was inspired by Tasteaholics and Every Last Bite.
Berry Skillet Cookie Dough Crumble
Ingredients
Filling:

1 Tbsp ghee, melted
1/2 tsp cinnamon
1/8 tsp ginger
1.5 cup wild frozen blueberries
1.5 cup frozen rasp
Dash of salt
Crumble:

10 Tbsp (6.5 oz) Unwrapp'd Cookie Dough
2 Tbsp Ghee
1/2 tsp cinnamon
1/4 cup shredded coconut
1/4 cup almond flour
Instructions
Take out berries to thaw. Preheat your oven and you 10.25 inch skillet (can use smaller) to 400F.
As your berries are thawing, measure out 10 Tbsp (6.5 oz) of your Unwrapp'd Cookie Dough. Cut the dough into small pieces, about the size of one of your fingernails.
Add berries to a large bowl and drizzle ghee over berries. Add cinnamon, ginger, and salt to the berry mixture. Toss to mix.
Grab another mixing bowl and toss together Unwrapp'd cookie dough, room temperature ghee, cinnamon and shredded coconut.
Once your oven and skillet have preheated, remove the skillet and pour the berry filling into the skillet. It'll sizzle & smell amazing. Top the filling, evenly, with the cookie dough mixture. Now evenly add the almond flour on top of the crumble and filling. This will soak up any extra liquid.
Put the skillet back into the oven. Bake for 10 minutes. Remove and let cool for 10min.
ENJOY!!!! I topped mine with whole fat yogurt and cinnamon. Yum!!
Notes
This is not a sweet recipe. If you'd like to make it sweet, feel free to add your sweeter of choice, to taste.
https://gracitude.com/2018/01/06/berry-skillet-crumble/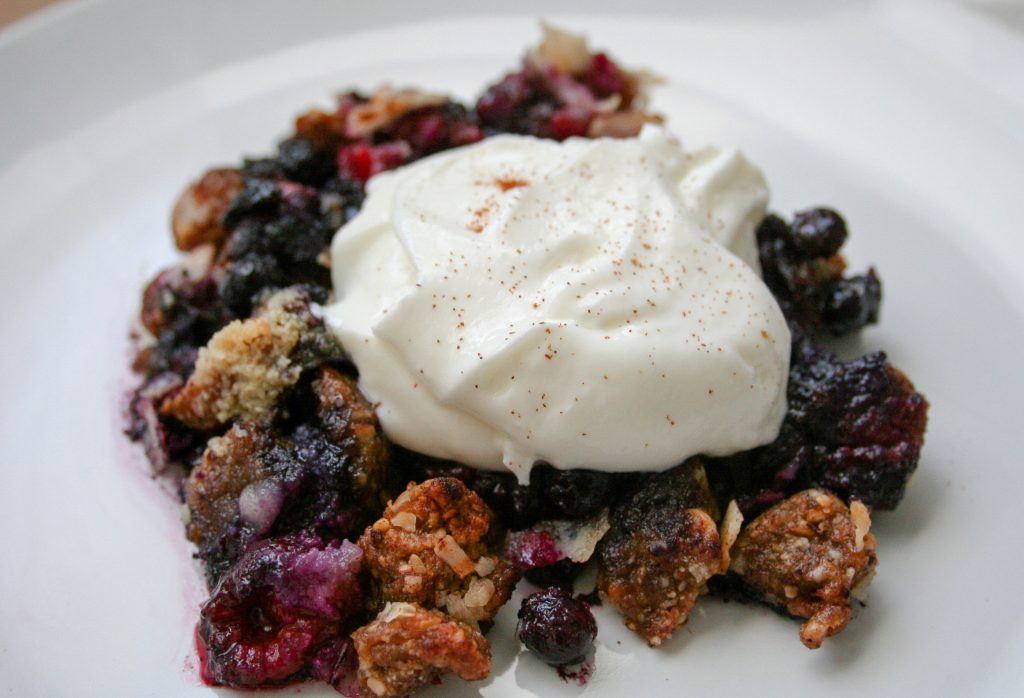 Hope you eat your way to your heart's desire 🙂
–grace